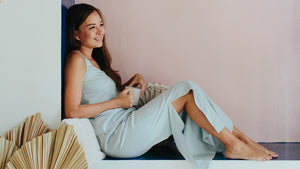 THE SIGNATURE COLLECTION
---
Signed, sealed, delivered with comfort and style. The Signature Collection debuts our first set of sleepwear / loungewear featuring  timeless, thoughtful, intentional designs that promotes quality rest. 

It also features specially designed in-house prints. In this collection - we use the Dandelions as the perfect symbol for resilience and hope - perfect for the times that we live in. It not only survives, but thrives growing in the most challenging environments. It also brings joy and hope when their clocks are blown into the wind as a wish is made. 

We wish you good sleep.